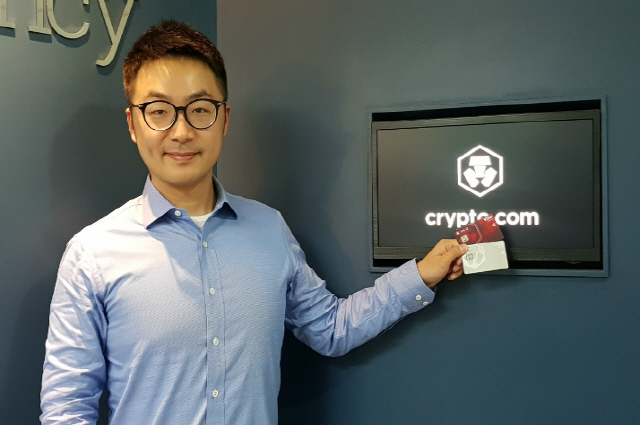 Cryptodotcom co-founder Bobby Bao
In a report published in July, the Bank of Korea stated that "cryptocurrencies' receptivity must be enhanced if crypto assets are to function as payment means." This means that more places have to accept cryptocurrencies like Visa cards can be used throughout the world. Cryptodotcom (formerly Monaco) co-founder Bobby Bao approached this crypto problem simply: making cryptocurrencies payment means by utilizing Visa cards spread already across the globe.
In a recent interview with Decenter, Bao explained why he had opted for crypto payments among all the blockchain-based business models, saying, "Blockchain is perfectly suited for payments and settlements." His statement is taken as meaning that if one uses cryptocurrencies, transparency in payments rises and overseas remittance fees drop as a result of remittance and withdrawal processes being recorded on blockchain. Toward that end, he had to look for places where cryptocurrencies can be used actually. "I had business goals of ensuring accessibility and usability of cryptocurrencies," Bao said.
Thus Cryptodotcom created the "MCO Visa Card," named after its own token MCO, by grafting the cryptocurrency wallet onto Visa cards. Namely, he combined cryptocurrencies with the existing financial industry. Any investor who has downloaded Cryptodotcom's Wallet App could make payments with cryptocurrencies at Visa card member stores. At the time of settlement, cryptocurrencies in the wallet can be converted into fiat money without transaction fees.
Currently, MCO Visa Cards are used at Visa card member stores in Singapore. "We developed a wallet for accessibility and opted for cooperation with Visa for usability," said Bao, adding that the number of users is increasing because our service supports a few popular coins as well as MCO.
But you don't have to choose a marriage with credit cards necessarily in order to ensure cryptocurrencies' usability. Software like cryptocurrency settlement solutions or stablecoins that remove price volatility can be options to get cryptocurrencies used widely. "Our choice of Visa cards was affected most by issues related to regulations among other ways to secure usability," Bao said. Given the lack of the international regulatory framework governing cryptocurrencies, he had to choose the most stable option. "Such projects as stablecoins enable the real-life use of cryptocurrencies but are not free from regulations or transparency issues if connected with fiat currencies," Bao said. "Traditional companies like Visa have been in compliance with international rules governing KYC (know your customer) or AML (anti-money laundering). Cryptodotcom also created a separate team for compliance to abide by regulations thoroughly."
The decisions to change the corporate name from Monaco to Cryptodotcom and have headquarters in Hong Kong are in line with what he strove for. The name change took place in July in Cryptodotcom's efforts to make its enthusiasm for usability stand out. "Our slogan is 'Cryptocurrency in every wallet.' We needed to change the corporate name to achieve the slogan," Bao said. He went on to reveal why his company was headquartered in Hong Kong, saying, "Crypto payments and settlements belong to finance and fintech businesses after all and Hong Kong is strong in these sectors."
Bao expressed expectations that cryptocurrencies will be payment means in Korea in the future. "In Korea, there are world-class crypto exchanges like Bithumb and Upbit and lots of people to talk with about cryptocurrencies and blockchain. We are considering launching services in Korea." /hyun@decenter.kr
<저작권자 ⓒ 디센터, 무단 전재 및 재배포 금지>
XC