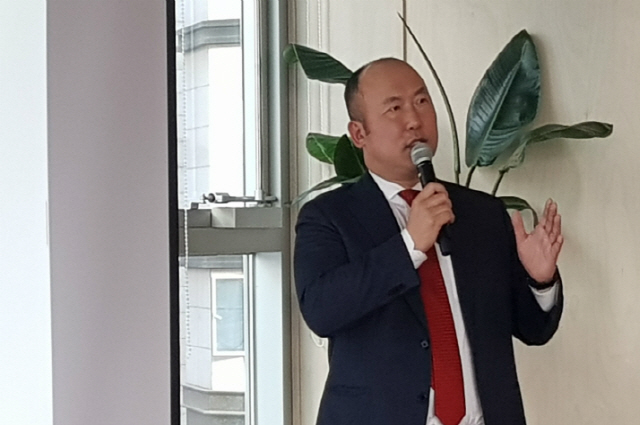 Attorney Kwon Dan makes a presentation on "STO trends in Korea and tasks" at the sixth Decenter Colloquium Tuesday.
"Three options to conduct security token offerings (STOs) without violating the current Capital Market Act (CMA) are raising small amounts; secyrity-type crowdfunding; and private equity funding. But there is a point in each case that deserves our attention."
Attorney Kwon Dan at Hanbyol Law, LLC, made the remarks in his presentation on "STO trends in Korea and tasks" at the sixth Decenter Colloquium held at a WeWork building in southern Seoul Tuesday. He introduced ways to conduct STOs in Korea without breaching the CMA.
If one is to issue securities, he or she has to comply with obligations under Article 119 of the CPA. If the amount exceeds 1 billion won and the number of investors recruited surpasses 50, the issuer must file a securities report with the Financial Services Commission. And if the declaration goes into effect, the issuer has to submit an investment prospectus. However, such obligations are exempted in cases where the amount is less than 1 billion won or the number of investors is fewer than 50. The security-type crowdfunding is also free from obligations. Kwon says the three types will enable STOs.
But he suggested what must be noted in carrying out STOs actually. Those wishing to raise small amounts have to abide by disclosure and action obligations under Article 130 of the CMA and duties to manage contracts on deposits for subscription and open accounts. "It remains to be seen if STOs will be possible actually because banks have to cooperate in opening accounts," the lawyer said. "In case of the private equity funding, the number is calculated on the basis of people requested to invest, not those who invested really. So 49 people or fewer than that must be requested to invest. Also, investment solicitation should not be made publicly."
Kwon classified STOs into three types, following the classification proposal by lawyer Bae Jae-kwang: fundraising, asset-backed and project investment types. He commented what should be noted according to the type.
According to attorney Kwon, the fundraising-type STO must be based on a de facto business model that guarantees dividend and principal and interest. In case of the asset-backed STO linked to tangible assets, ownership of security tokens must be separated from that of assets themselves. "For example, ownership of real estate in Korea can be transferred only after registration is completed. So in case of security tokens linked to real estate, it's necessary to separate ownership of real estate from token ownership." As to what must be noted in the project investment STO, he cited insufficient legal tools to protect investors.
Kwon says there are ways to conduct STOs in Korea but hurdles exist. "The biggest hurdle is that the secondary market is inadequate. Institutional investors might be reluctant although STOs are conducted really," he explained. "What's needed first is to decide on where security tokens are traded. The United States is beginning to clarify regulations by granting a license to the trading platform." /hyun@decenter.kr
<저작권자 ⓒ 디센터, 무단 전재 및 재배포 금지>
XC