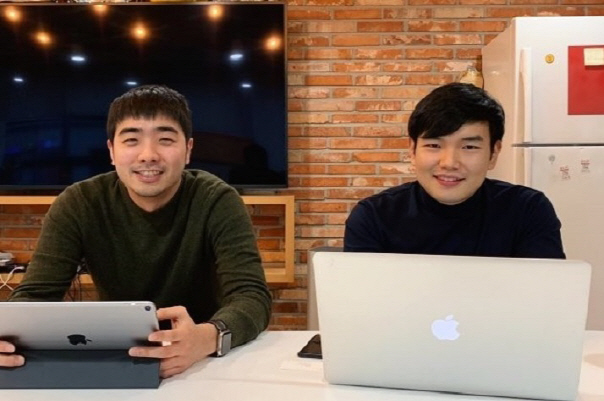 Contents Protocol co-CEO Alex Jihyun Won, left, and head of business James Lee
"Pay attention to us if you want to love diverse cultural contents, consume better contents and contribute to making improved contents."
Contents Protocol co-CEO Alex Jihyun Won and head of business James Lee sounded powerful whenever they mention "contents." Watcha Play, which has secured more than 4.5 million users at home and abroad, is already a familiar name. The company received a spotlight as a reverse ICO (initial coin offering) of Watcha Play. Contents Protocol drew attention once again after it turned out to be a secondary partner of Klaytn, Kakao's blockchain platform. "We created Contents Protocol after agonizing that we could solve important problems in the content distribution industry with blockchain technology," said Won who had pulled off a coup with Watcha Play.
The token structure suggested by Contents Protocol is simpler than you might think. There are four principal agents: content providers (CPs), content distributors, customers and Contents Protocol. CPs hand over contents to distributors, which would in turn provide them for customers and collect and relay data like user adoption and comments. In this process, Contents Protocol functions as a foundation, distributing CPT tokens like bonuses earned in return for comments. Customers and distributors leave their data while receiving CPT in compensation; CPs are able to produce better contents by receiving users' feedback data.
As Contents Protocol's strong point, Won and Lee cite the fact that it is the reverse ICO Of an already successful startup. "Any startup handling tokens has to cope with two hardships: gathering general users and let them exploit tokens," said Won, adding that Contents Protocol is in a far better position because it overcame the first hardship through Watcha Play. Lee embodied what he had experienced while touring various studios in Hollywood in person. "There are a number of CPs that want customer data Contents Protocol wishes to offer. Our project will be chosen by many if properly implemented as sure-fire demand has already been verified," Lee said.
One can wonder why Contents Protocol has partnered with Klaytn. "To say nothing of Kakao's technical prowess, we looked at possible backup after collaboration from Kakao that had already been providing diverse services through its platform from the perspective of business support," Won said.
At a time when killer decentralized applications (DApps) have yet to show up, what factors would trigger the "user adoption"? Contents Protocol stresses that benefits given to users by tokens must be clear. "As far as users are concerned, current apps are convenient and there are many models enabling users to accumulate points simply. Our primary mission is to imprint the image that 'specific Watcha Play services are certainly excellent in such and such aspects,'" Lee said. "Then other distributors will also want our token models and we can help them while expecting the expansion of our services. All this begins with impressing users."
Contents Protocol's grand objective is to become the default option. Just as distributors are required to adopt the copy prevention technology, Contents Protocol needs to be an option applied basically.
Won said, "We will promote the qualitative improvement of the contents market by tackling the fundamental problem of failing to collect user data and users will be able to feel joy of contributing to the contents market and get substantial rewards."
Contents Protocol has succeed in receiving investments from such big investors as Hashed and Kakao and wrapping up private and public sales and is ready to unveil services in the first half of this year. CPT tokens will be paid soon and existing Watcha Play users will receive tokens according to certain standards such as the user data provision. /minsy@decenter.kr
<저작권자 ⓒ 디센터, 무단 전재 및 재배포 금지>
XC