In his contribution to Forbes last April, Sherman Lee, a cryptocurrency and artificial engineering analyst, contended that "artificial intelligence (AI) would need to introduce blockchain technology to solve problems occurring in the course of securing and processing data." Like his assertion, blockchain, AI and big data could create a synergy effect when integrated. Korea's blockchain projects are also making active moves in AI and big data.
The third-day event of the "Blockchain & Week, If Blockchain Meets Other Industries," organized by Decenter University Thursday, delved into how blockchain technology could be combined with AI and big data. Project managers who attended the event concurred on one thing: "blockchain is a perfect fit to process data and can address problems confronting AI."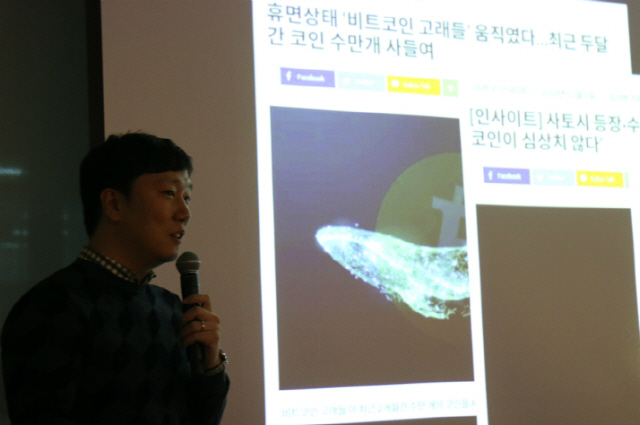 Lyze CEO Choi Jae-hoon/ photo by Cho Jae-seok
Data on blockchain needs analysts
Various speculations go viral in many communities whenever cryptocurrency prices go up and down. This is why precise data must be provided. The answer lies in blockchain, the generic technology of cryptocurrencies. Data embedded into blockchain is accurate and not deceiving. Yet it's difficult to interpret it.
Lyze calls transactions conducted on blockchain "onchain data" and interprets it to provide investment information. "Ordinary people feel it difficult to analyze data on blockchain because it is too complicated," said Lyze CEO Choi Jae-hoon, adding that Lyze offers meaningful onchain data using its own algorithm. "Rumors circulating in social media and online communities could affect the market. But refined data based on transactions on blockchain can make the cryptocurrency market more transparent."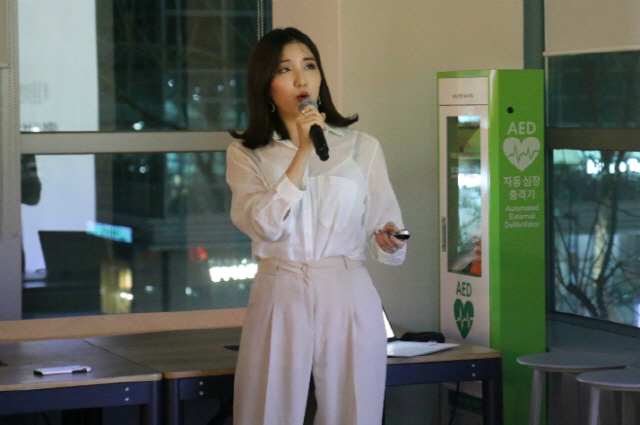 Kim Hee-yeon, head of business partnerships at Airbloc/ photo by Cho Jae-seok
Blockchain technology to help regain 'data sovereignty'
It's getting difficult to regain sovereignty over "my data" as the internet and mobile communities are flush with data. The reality is that one has no idea of what personal information I supplied to what companies and how my personal information has been used. "You may think that war is under way for personal data. Individuals have the right to know how their data is exploited and to demand the deletion or modification of data," said Kim Hee-yeon, head of business partnerships at Airbloc.
Airbloc is a project seeking to resolve these problems with blockchain technology. The company is tracking down on where data is used, capitalizing on blockchain's trait of storing data transparently. Airbloc also aims to realize peer-to-peer data transactions based on blockchain. "It's important to let individuals exercise influence on their data proactively," Kim said.
Airbloc is also carrying out research on introducing blockchain's zero knowledge proof technology into identity verifications. A zero knowledge proof is a method by which one party can prove to another party that they have the relevant data without providing any data. "We have a plan to help individuals prove their identities without revealing even indirect data using the zero knowledge proof technology," Kim stated.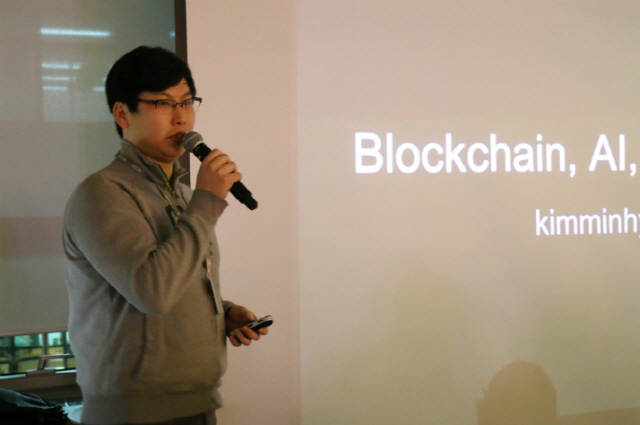 AI Network CEO Kim Min-hyun/ photo by Cho Jae-seok
Computing power needed to develop AI traded on blockchain
Computing power is essential to developing AI. Higher-performing devices are necessary to let AI analyze and study immense data. What will you do to secure vast quantities of resources cheaply? Using idle resources or sharing resources will do.
AI Network is a project enabling computing power for AI development to be traded on blockchain. "Like Airbnb shares unused space through an online platform, you can use computing power efficiently via peer-to-peer transactions on blockchain," said AI Network CEO Kim Min-hyun. Computing power is not alone in being shared. Codes needed for AI development can be shared. He emphasized why codes must be shared on the blockchain network, saying, "The open-source culture brought about innovation in many areas but showed limitations in AI."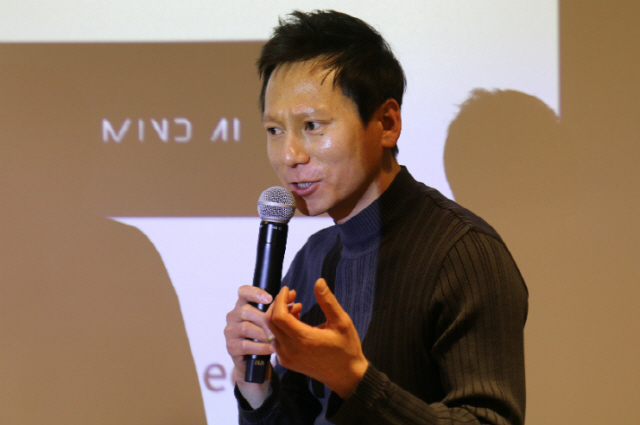 Mind AI chief technology officer Reeyan Lee/ photo by Cho Jae-seok
AI's thinking power comes from blockchain
Although higher-performing AI has been developed, another difficult problem remains. Knowledge humans can understand by experience must be entered as "data" for AI. At this point, if data is false or tampered, AI makes a judgment based on incorrect data. This is no exception for AI that excels in thinking ability.
Mind AI also encountered this problem although it had developed AI able to think logically. It was blockchain technology that Mind AI opted for to resolve the problem. Tampering data stored on blockchain is impossible actually. If blockchain's token economy is exploited, data providers can get reward, which would be instrumental in filtering out quality data.
Mind AI chief technology officer (CTO) Ryeeyan Lee said, "Mind AI is trying to collect data for AI from a lot of people like Wikipedia does. When we use this 'crowdsourcing method,' we agonize over how to collect only quality data." "We found the solution from blockchain. We will build an ecosystem combining AI and blockchain technology by offering token reward to those who provide data and letting users of the Mind AI engine pay fees with tokens."
Decenter University plans more events to share high-tech information
The three-day "Blockchain & Week, If Blockchain Meets Other Industries" event that ended on Thursday, organized by Decenter University, drew more than 200 audiences interested in blockchian and other high technologies. There were heated debates involving corporate representatives and audiences concerning core technologies of the Fourth Industrial Revolution including blockchain, games, payment and AI.
Decenter University says it will continue to organize various meet-ups and information-sharing events for Decenter readers and others thirsty for information on state-of-the-art technologies. /hyun@decenter.kr
I
<저작권자 ⓒ 디센터, 무단 전재 및 재배포 금지>
XC