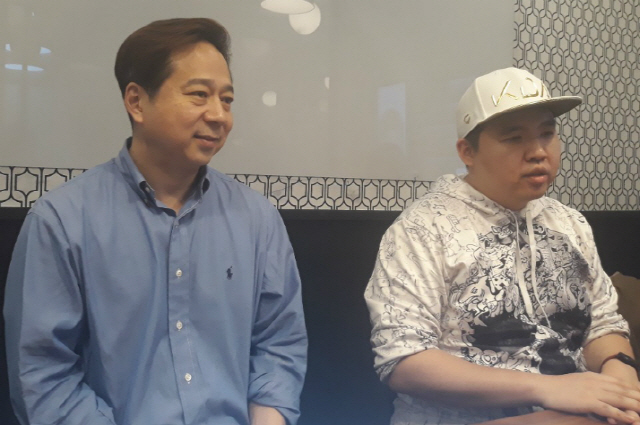 Bifrost CEO Park Do-hyun and Choi Hyun-sik, a partner at Block Crafters / photo by Cho Jae-seok
What should be considered first when you develop a decentralized application (DApp)? You have to choose a platform for the DApp. DApp developers weigh up the pros and cons of various blockchain platforms like Ethereum and EOS. That's because the function of a DApp is subordinated to that of a platform. DApps on Ethereum have to endure slow speed and those on EOS must put up with the allegedly insufficient level of decentralization.
Bifrost CEO Park Do-hyun said, "DApp developers could commercialize services, unaffected by different functions of blockchain platforms." His thought is that blockchain technology can be used widely only when there is an environment where DApps can be developed flexibly. This is why Bifrost is developing middleware linking blockchain platforms and DApps.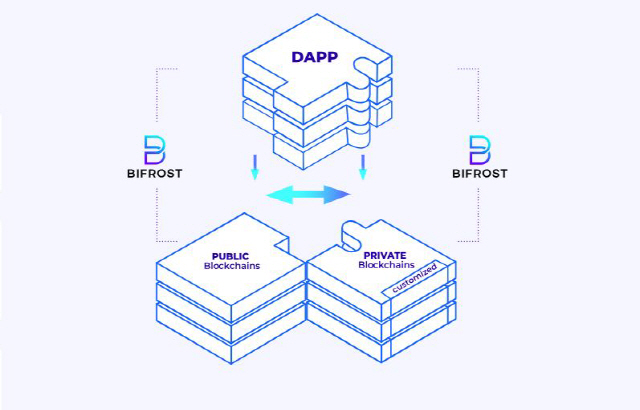 /Screenshot of Bifrost website
Narrowing gap between DApp and blockchain platform

How middleware of Bifrost works is as follows. To begin with, you have to divide DApp development codes into those that can be embodied by private blockchain and those that need public blockchain. Namely, activities needing fast speed are uploaded on private blockchain whereas activities needing security are uploaded onto public blockchain. In this way could development teams enhance the speed and save fees. "This is gaining merits from both public and private blockchains," Park said.
DApp development teams can use Bifrost's middleware to overcome what is lacking in the blockchain platform. Park said, "This is to add the private blockchain set by Bifrost's middleware along with the released public blockchain mainnet." "This will give development teams a more flexible DApp development environment. We are currently discussing with several DApps after finishing our technical demonstration and plan to disclose our DApp partners by the end of the year."
Bifrost's middleware was developed by focusing on Ethereum but the scope of its service will be extended to other blockchain platforms. "Middleware can be applied to all blockchain platforms using Ethereum Virtual Machine (EVM) like Tron, Quantum and Klaytn. We are cooperating with the Ethereum Foundation," Park said.
Block Crafters 'looking for game changer'

Bifrost's middleware is the first commercialized portfolio unveiled by Block Crafters, a blockchain accelerating company. Block Crafters, which had reviewed 500 projects in 20 countries around the world, chose a few projects that could be "game changers" after much consideration. Choi Hyun-sik, a partner at Block Crafters, said, "We are looking for good projects in many countries including Lithuania and Indonesia. Bifrost is the most likely game changer."
A project that has the highest chance of being commercialized and has positive effects on the blockchain industry as a whole. This is the standard by which Block Crafters excavates portfolio projects. "Given that several DApps began to be installed on mobile phones, more blockchain-based services will be commercialized," said Choi, adding that "Bifrost was able to attract investment from venture capital like Korea Investment Partners thanks to its higher chance of commercialization in terms of technology." Bifrost attracted 4 billion won in seed investment from Korea Investment Partners after its technical demonstration.
Choi expressed hope to look for more projects that are innovative enough to be called "Blockchain 3.0" "Blockchain's history is short but such a big industrial axis as Bitcoin or Ethereum clearly exists. Several projects claim to be Blockchain 3.0 but seem unsatisfactory but we are looking for such projects," Choi said. "What Block Crafters aims for is to help companies prove their technical expertise through accelerating rather than helping cryptocurrencies to be listed." /hyun@decenter.kr
<저작권자 ⓒ 디센터, 무단 전재 및 재배포 금지>
XC