"Blockchain is not an essential 'absolute tool' in the game industry. Blockchain is an 'industrial promotion tool' to enrich the industry."
Blockchain game industrialists concurred on this on the first day of the "Blockchain & Week, If Blockchain Meets Other Industries" organized by Decenter University for three days beginning Tuesday.
The game industry is one of industries that could generate greater synergy if combined with blockchain. That's because it's possible to tackle the most serious problem involving existing game companies: "game companies' item management and their chances of manipulation." Blockchain technology could make it possible to have peer-to-peer game item and crypto asset transactions without going through game companies.
Industrialists who attended the "Blockchain & Game" event said the blockchain-game synergy would grow bigger although there is much to be desired like data processing volume and user interface (UI) and user experience (UX) because blockchain is still in its infancy. Independent game developers and other smaller firms would capitalize on blockchain to build a more abundant ecosystem.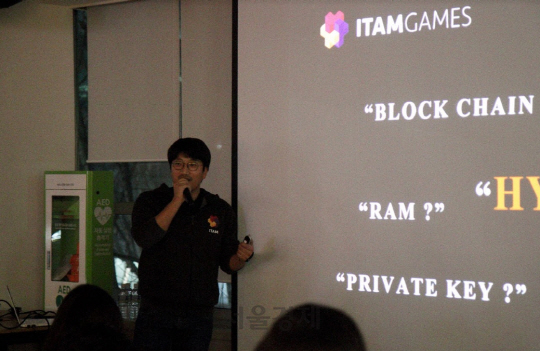 Gill A-sung, CEO of ITAM Games/ photo by Cho Jae-seok
'Synergy from blockchain plus games'
What would be the merit from amalgamating blockchain with games? Gill A-sung, CEO of EOS-based game developer ITAM Games, said, "Blockchain will bring transparency, confidence and compensation and function as a tool to motivate users to enjoy games." Emphasizing that transparency is blockchain's biggest strength, he said, "Hacking can be prevented because blockchain makes it possible to record every move of users. This also serves as a barometer that can manage both white list and black list customers."
There must be limitations, given the infancy of the relevant industry. Many obstacles await ordinary game users who are ignorant of technology in playing blockchain games. "Users have to go through somewhat complicated and difficult sign-up procedures to play blockchain games. As far as EOS-based games are concerned, users need 1 EOS (about 4,500 won) just for subscription and have to keep their private keys well even after signing up for the relevant games," Gill said.
So ITAM Games opted for a "hybrid" scheme that would envision covering what is necessary with blockchain in what appears to be a proper combination of centralized games and blockchain. He says this hybrid scheme helps game companies, noting that "we cannot cover all things with blockchain yet because there are such problems as the slowdown in the event of large transactions."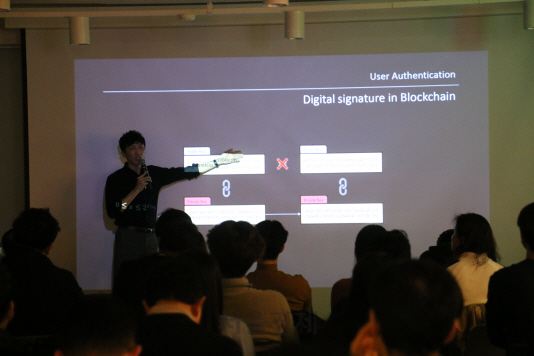 Conrad Um, head of GXC Blockchain Lab/ photo by Cho Jae-seok
'Hurdles must be lowered to promote blockchain games'
Ordinary game users have to understand the blockchain system to enjoy blockchain games. Unlike online games where the login is possible just with the input of ID and password, blockchain games require users to be familiar with public and private keys and how to use the cryptocurrency wallet. "It's true technical details needed to enjoy blockchain games are hard for ordinary gamers to figure out. Such hurdles as autograph transactions that appear repeatedly in the course of gaming will also lower users' immersion level," said Conrad Um, head of the GXC Blockchain Lab.
Some insist on autograph transactions although they are inconvenient. That's because blockchain technology itself pursues a high degree of security. "It's necessary to look at things from the perspective of the general public. We have to agonize over the level of convenience within the framework of not undermining the value of blockchain," he said.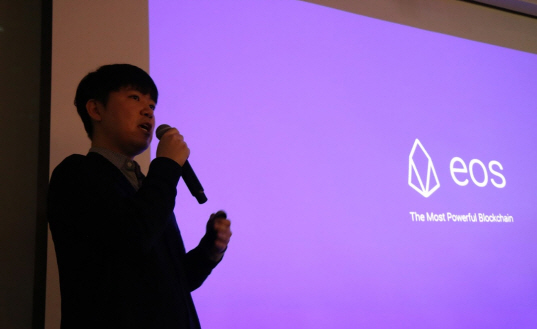 Kim Hong-wook, EOSYS team leader/ photo by Cho Jae-seok
'Time to look at blockchain games from the perspective of business'
Would the blockchain game market remain the "league of them (developers)" failing to secure enough users? There are assertions that it's necessary to look through the industry from the perspective of business.
Kim Hong-wook, team leader of EOS block producer EOSYS, admits that the blockchain industry is going through a slump after the ICO boom. "As the DApp (decentralized application) market emerges as a new growth engine and games are stealing the spotlight among other things, it's necessary to approach the issue from the perspective of business," he said. Emphasizing that DApp sales soared 446 times last year from 2017, Hong stated, "The preemption effect will surely appear in the blockchain industry like in the internet and mobile markets. So it's necessary to prepare before blockchain becomes widely popular (from the perspective of business)."
Yet blockchain must not be the end of services. The moment blockchain becomes the end, the pertinent project is doomed to failure. "Positive synergy could be generated by integrating blockchain only after thinking of fun, the most important factor in games, first," Kim said. At present, EOSYS is cooperating with various service developers through "JellyJuice," a joint development platform through which industrialists can upload their services on the EOS blockchain easily.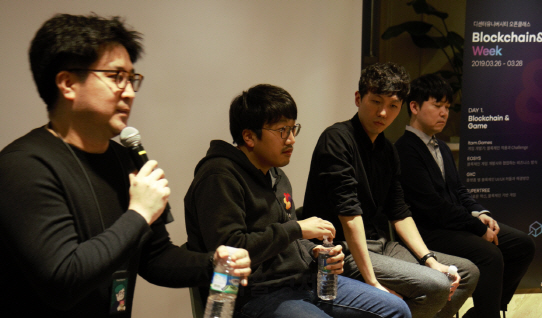 SuperTree CEO Choi Sung-wone, left, speaks during a debate./ photo by Cho Jae-seok
'Harmony of blockchain technology and user convenience needed'
SuperTree is a company looking for a harmonious blockchain innovation. This means that blockchain technology philosophy must be harmonious with user convenience felt by ordinary gamers. "Blockchain enables ordinary companies, not the government, to offer rewards through decentralization. Based on this blockchain technology philosophy, game companies need to agonize over how to attract customers," said Choi Sung-wone, CEO of SuperTree.
What SuperTree opted for is "user first." Unlike other blockchain games played only via cryptocurrencies, SuperTree exploited such traditional payment methods as PayPal to remove all inconvenient hurdles that could be felt by users. "Users having cryptocurrencies account for only 1% out of 200 to 300 users. SuperTree is front-loading what gamers want to help them enjoy games more conveniently," Choi said.
'Blockchain & Week' will continue through Thursday
The Blockchain & Week event, organized by Decenter University, will continue at the event hall on the second floor of WeWork Seolleung Branch Wednesday and Thursday. Participants in the Wednesday event under the theme of "payment and transfer" include Coinone Transfer, Coinduck, Bluecon and Terra and those in the Thursday event under the theme of "artificial engineering and big data" include Lyze, Airbloc, AI Network and Mind AI./ yjk@decenter.kr
<저작권자 ⓒ 디센터, 무단 전재 및 재배포 금지>
XC