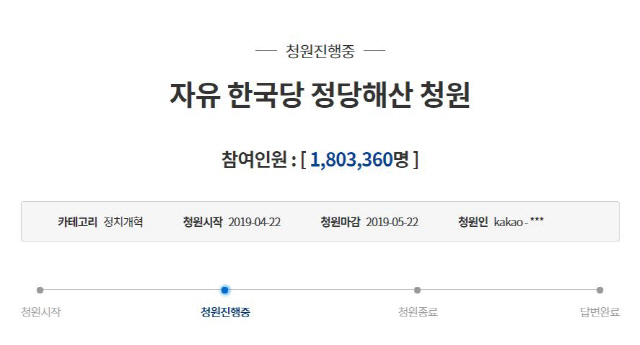 Nearly 1.8 million people take part in the petition calling for the dissolution of the Liberty Korea Party in Cheong Wa Dae's petition website as of May 7. /Screenshot of Cheong Wa Dae website
The petition website of Cheong Wa Dae, Korea's presidential office, is embroiled in controversy over confidence. As the petition for the dissolution of the main opposition Liberty Korea Party (LKP) is drawing unprecedented consent, there have been rumors even about manipulation of computer programs or North Korea's involvement. The petition website should have been the forum to measure public opinion where everyone can express views without filtering but is alleged to be "useless" these days. Will there be any solution?
IT academics and technical experts suggest blockchain as an alternative. They believe that blockchain could block various attempts to undermine the sincerity of people's petition at source, given its technical trait that records of activity on blockchain can be trusted. The blockchain community, in particular, says it's a feasible service, noting that time and cost needed to realize the blockchain-based petition website is not that big. This means that the effect from introducing the service is quite clear because the veracity of people's consent can be ensured at low cost.
The number of agreements supporting the party's dissolution at the website broke 1.8 million as of May 7. The figure far exceeds the 200,000 bar requiring the government to respond and is more than the previous record of 1.19 million posted over the PC room murder case in Gangseo-gu that aroused the public resentment. The petition for the dissolution of the ruling Democratic Party of Korea, which had been filed by supporters of the opposition block, also surpassed 300,000, meeting Cheong Wa Dae's minimum requirement.
Nonetheless, there have been disputes over the authenticity of those figures since the petitions are politically motivated. Allegations of fabrication erupted last month amid rumors that the number of participants in the petitions was manipulated by the use of internet protocol (IP) addresses in Vietnam. A flurry of doubts were raised in the internet community concerning the possible manipulation of petitions supporting the dissolution of the LKP after it was revealed that traffic accessed from Vietnam accounted for 13.94%, more than 20 times the normal rate. Furthermore, as Lee Jun-seok, a member of the minor opposition Bareunmirae Party's Supreme Council, raised suspicions of traffic involving Vietnamese IP addresses through his Face Book posting, the credibility controversy over Cheong Wa Dae's petition system has become the hot potato in the Korean political arena. Yet the controversy over the Vietnamese traffic has waned a bit after it was confirmed that traffic from Vietnam rose in March before the relevant petition was posted.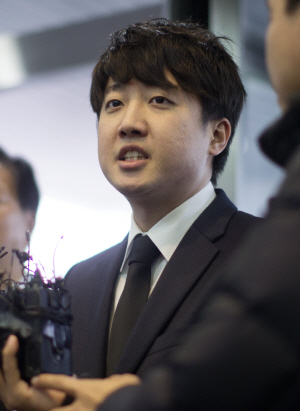 Lee Jun-seok, a member of the Bareunmirae Party's Supreme Council /Courtesy of Seoul Economic Daily
There are rumors that computer programs were employed and North Korea stood behind the controversy. Jeong Yong-ki, chief policymaker of the opposition LKP, claimed in his radio interview earlier this month, "The petition for the dissolution of the LKP was posted on Cheong Wa Dae's website on April 22, four days after 'Uriminzokkiri' under the wing of the North's Committee for the Peaceful Reunification of the Fatherland 'called for breaking up the LKP' on April 18." He also raised suspicions about North Korea's involvement, saying, "Nearly 30 people concurred on the petition per second."
The fundamental problem lies in how the petition website is run. Whoever with either of Naver, KakaoTalk, Face Book or Twitter ID can post a petition or give consent to a specific petition. Here Naver allows a single person to make up to three IDs, which makes it possible for him or her to support a petition three times only with a Naver ID. In theory, it's possible to swell the number of consents to a specific petition from 100,000 to 300,000.
More than that would be possible. Rep. Shim Jae-chul of the LKP argued in a party conference on May 1, "Manipulation is possible infinitely by using different emails of KakaoTalk or Face Book. Aside from Naver's three IDs, emails can be issued infinitely when people subscribe to Face Book or Twitter through Google emails. So the number of consents to a specific petition is totally meaningless."
On Jan. 6 last year, there was an incident in which duplicated consents to a petition entitled "Compulsory education on feminism in elementary, middle and high schools" through Kakao Talk accounts. After the incident, the presidential office once put a stop to logins through KakaoTalk.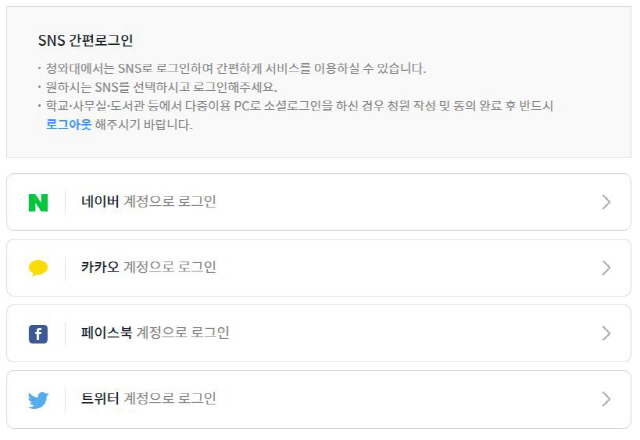 It's possible to manipulate the number of consents through fake accounts because four social media services can be used. /Screenshot of Cheong Wa Dae website
The problem is that manipulation theories cannot help recurring as long as the present login and petition consent schemes remain intact. That's why there are proposals that blockchain technology be used in Cheong Wa Dae's petition website. If users perform activities on the blockchain network like exchanging cryptocurrencies, such transactions never fail to be recorded on blockchain. It's possible to leave separate records too. The "Panmunjeom Declaration" that came at the end of the inter-Korean summit in April last year is recorded on Ethereum's 5,517,596th block. This record is valid without tampering unless Ethereum vanishes. Records on blockchain are connected mathematically and therefore, it's actually impossible to modify or fabricate what is engraved later. If one tries modifying something, the mathematical logic inherent in the connection of records collapses.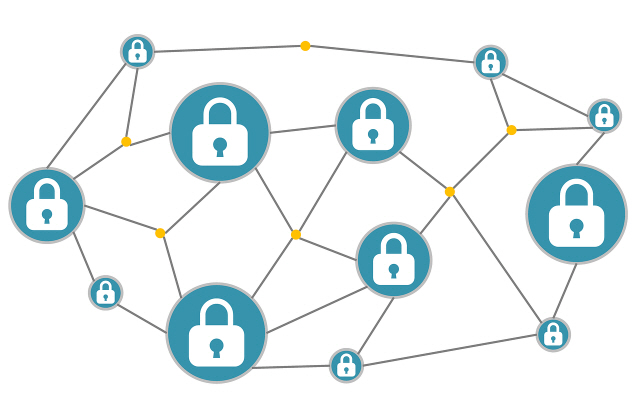 Manipulating Cheong Wa Dae's petition website will be all but impossible if blockchain technology is used. /Courtesy of Pixabay
If blockchain applies to Cheong Wa Dae's petition website, the system will run like this. The petition website is developed as an application based on blockchain and coins linked to the app are issued. The coin has no monetary value and is used as a kind of voucher that can be used when giving consent to a petition. If the consent button is pressed, a coin is recognized as being used, which would be recorded on blockchain. Duplicated consents are blocked at source if a coin is programmed to be used once per petition.
Identification of users is made through official certificates, not IDs of such portals as Naver. Coinplug CEO Ryan Uhr said, "It will be possible to confirm identities on the blockchain network through current methods like certificates or credit card accreditation without having to upload identities of all people. This will certainly enable whoever wants to support a petition to use the proposed service." You can produce accounts of portals only with names and resident registration numbers. Yet the chances of generating accounts indefinitely through official certificates are slim because they should come with account numbers, account passwords and security cards or one-time passwords (OTPs) received from banks when opening accounts as well as names and resident registration numbers. Some suggest a scheme to make blockchain accounts through the accreditation of mobile communications.
What about technical difficulty and cost? "This is like creating an app on blockchain. Time and cost will hardly matter and its technical expertise is far from picky," Uhr said.
Prof. In Ho of Korea University who concurrently leads the Korea Blockchain Association said, "The core of trust problems over the petition website is about mobilizing IDs or using fake accounts rather than manipulating contents recorded on servers. Blockchain-based IDs will make it difficult to tamper with things and so offer a reliable service." "If you make a blockchain-based identity authentication once, it can be used in issuing various certificates and performing financial activities as well as consenting the petition without concern about the tampering, which would pave the way for e-Government 4.0," said Prof. In, adding that at a time when nearly 2.5 billion people around the world are unable to use financial services, the blockchain-based identity authentication system could become the world's standard technology, if developed. /rok@
<저작권자 ⓒ 디센터, 무단 전재 및 재배포 금지>
XC