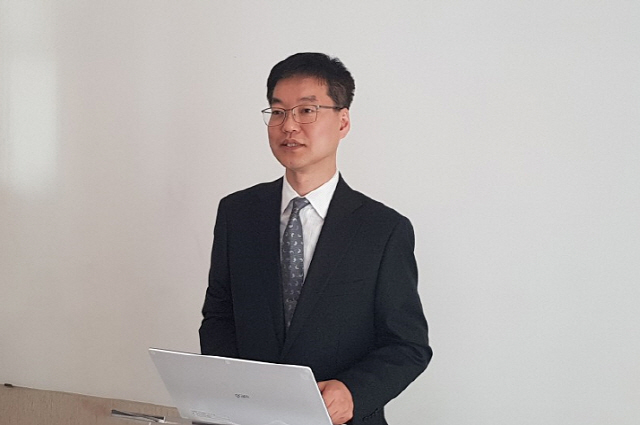 BXA CEO Kim Byung-gun / Photo by Shim Doo-bo
BXA CEO Kim Byung-gun, who had gained managerial control over Korea's largest cryptocurrency exchange Bithumb, said in a press conference Thursday that he is raising capital to take over Bithumb without a hitch and plans to focus on security token offerings (STO) in the future.
Singapore-based BXA, headed by Kim, is the de facto largest shareholder of Bithumb. As visions for BXA, he proposed technology-based knowledge society; platform assuming compliance; connection of highly liquid fiat currency and cryptocurrency; and real-time transactions, securitization tokens and financial derivatives.
To realize these visions, Kim said his group is reinforcing liquidity and compliance in the crypto exchange and expanding partnerships with liquidity suppliers, particularly unveiling a plan to "support STO issuance actively."
He dismissed suspicions raised by some that BXA tokens are being sold to raise funds for the Bithumb takeover. "The suspicions are founded on allegations that we might pay for the acquisition through investments in tokens," said Kim, adding that BK Global Consortium had acquired slightly more than half of BTC Holding Company's stake and capital raised through BXA tokens has never been used to take over Bithumb.
"BXA tokens will be used to develop the system including the mainnet and the development of the mainnet has progressed considerably," he said. "The $400 million takeover fund will be prepared without borrowings. $100 million has already been paid and we will pay the rest by February."
Kim said Japanese, American, Mideast and British companies are taking part in BK Global Consortium that will acquire Bithumb.
Touching on the much disputed purchase of BXA tokens, he urged investors to be cautious, saying Orange Block is the only company to have a mandate to sell BXA tokens. Kim also denied rumors that BXA tokens would be sold in Korea, explaining that cryptocurrency group buying distributors had contacted Orange Block after selling tokens without prior consultations but Orange Block didn't accept the proposals.
"Disgruntled with this, some distributors attempted to defame Orange Block and BXA and we are just notifying these facts through official telegram channels," he said. With respect to his company's placement of Kingsley on the list of scams, Kim says, this doesn't mean that Kingsley is a scam but just means that some people are abusing Kingsley's name. "Orange Block is carrying out investments abroad through qualified institutional investors at my request and private sale is almost done."
He described BXA's future directions as securing fiat currency foothold and licenses in 10 countries and sharing an order book; releasing the BXA mainnet in the second quarter of 2019 to ensure more partners and enough liquidity; and providing a digital financial environment including STOs, which will emerge as a hot topic next year.
"We will focus on STOs. We decided to share the order book with exchanges in 12 countries with a particular aim to provide the best liquidity," Kim said. "Apart from allies, we plan to share liquidity with outside crypto exchanges through opening and are discussing ways to share an ecosystem through cooperation with global crypto exchanges."
"Funds from Bithumb might be used to acquire other exchanges or blockchain companies. Taking over exchanges is part of our BXA alliance and it's possible to both create an exchange and acquire one," he explained.
In conclusion, Kim said investors were able to avoid the disaster thanks to Korean financial regulator's warnings. "The blockchain community is appealing to soften regulations but Bithumb is not in a position to comment on lifting regulations or not. We will comply with whatever government policies are announced to the full." /minsy@decenter.kr
<저작권자 ⓒ 디센터, 무단 전재 및 재배포 금지>
XC