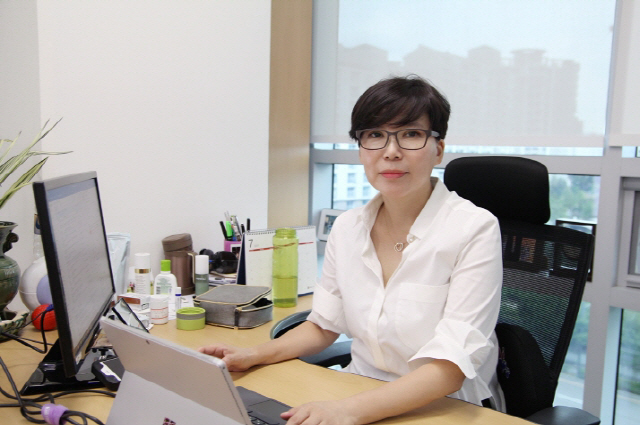 Hancom Secure CEO No Yoon-sun /Courtesy of Hancom Secure
"In the near future, there will be an environment in which distributed digital assets are traded freely. At the heart of this will be the blockchain service of Hancom Secure. This year's goal is to empower our capabilities while carrying out diverse projects."
Hancom Secure CEO No Yoon-sun made the remarks in an interview at Hancom Tower June 20, expressing confidence on her company's performance in the second half of the year.
First half devoted to private and public projects
Hancom Secure, a subsidiary of Hancom Group, is a security infrastructure company providing security solutions in internet banking and cyber trading. Having assured of its security technologies, Hancom Secure began blockchain projects in earnest in late 2017. The company unveiled its blockchain platform "S-Ledger" using security technology and "Security Suite," a blockchain-based enterprise authentication service, last year through a variety of pilot projects.
No's first half flied in a twinkle. Hancom Secure was selected as the operator of a "pilot public project" supervised by the Korea Internet & Security Agency and the Ministry of Science and ICT in April and is working on a blockchain platform for part-time workers. "Blockchain will enable laborers to be ensured rights as much as they work and the government to offer more elaborate public services using tamper-proof labor data," No said. Hancom Secure has collaborated with Jeonju City Hall. Specifically, the company is pushing ahead with "Digital Twin," a Smart City project designed to nurture industries in Jeonju in cooperation with the Korea Land and Geospatial Informatix Corporation. At the heart of all projects implemented by Hancom Secure was the blockchain platform "S-Ledger."
The financial sector is also showing interest in Hancom Secure's projects. What drew attention from financial firms is "securing potential customers" through the blockchain platform. Banks need base data to assess borrowers' credit to offer loans. So far, there have not been proper credit data for part-time workers. "Data accumulated in the blockchain-based platform for laborers can be utilized as materials for financial products," No said.
Commitment to security capabilities and services to charm customers


What's the secret to enabling Hancom Secure to implement diverse businesses like this? No cited "excellent security capabilities and consulting giving top priority to customers." "Blockchain is a technology optimized for ensuring the reliability of data but stops short of tackling identity theft or hacks," said No, adding that "security-specific Hancom Secure has gained trust by offering services with Security Suite." In fact, reputation built as a security-focused company has helped Hancom Secure carry out blockchain businesses.
The company's services considerate of customers also shined. "Many blockchain platform providers appeal to technical advantages like TPS (transaction per second) but it's more important for customers to be clearly aware of what blockchain would bring," she said.
Of course, all things have not been easy. Hancom Secure sometimes hit a snag in doing business because of negative views about blockchain technology, which is often linked to ICO (initial coin offering) scams. Opaque regulations concerning cryptocurrency have also been a stumbling block. "We are focusing on areas having nothing to do with tokens or cryptocurrency. Ultimately, it will be necessary to value all things in society in digital form and tokenize assets for mutual transactions," No said.
Raising accuracy by adding blockchain to Internet of Things


Hancom Group has selected Smart City as its next-generation flagship business. Smart City requires Hancom Group to mobilize all technical skills including mobility, artificial engineering, virtual reality and augmented reality. Every technology is supposed to interact on the Smart City platform and build information data, the equivalent of "blood" in the Fourth Industrial Revolution.
Hancom Secure, in particular, is seeking to enhance safety and convenience of Smart City by using the B-IoT (Blockchain Internet of Things) linking blockchain with IoT. "If you connect diverse IoT data occurring in Smart City with blockchain networks, it will be possible to ensure reliability and lower management costs," No said. "Data can be used to operate more elaborate fire safety simulation programs or raise the accuracy of shared services for parking."
Hancom Secure plans to unveil its own blockchain-powered B2B (business-to-business) and B2C (business-to-consumer) services in the latter of this year. "We build up our service experience by implementing a variety of private and public projects. We will unveil more details about our forthcoming services in the latter half," she said. /cho@decenter.kr
<저작권자 ⓒ 디센터, 무단 전재 및 재배포 금지>
XC