Korea's credit card market amounts to 847 trillion won and Korea's overseas remittance market reaches 30 trillion won. There are lots of problems in Korea's payment and transfer markets -- 3 to 10 stages in credit payments, high fees and long adjustment hours.
The second-day event of the "Blockchain & Week, If Blockchain Meets Other Industries," organized by Decenter University from Tuesday through Thursday, addressed these problems intensively. In Wednesday's session on blockchain payment and transfer, participants said in unison that "the problems of decentralization and confidence blockchain is trying to tackle correspond to the problems with which the existing payment and remittance markets have been beset."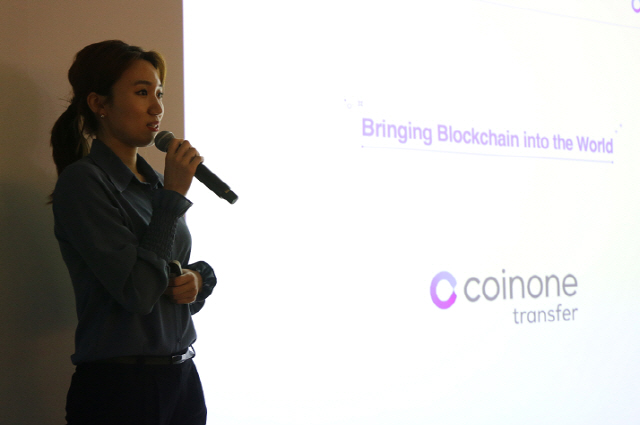 Chung Eun-jeong, team leader of Coinone Transfer/ photo by Cho Jae-seok
'Blockchain used to lower transfer fees and raise speed'
Cross of Coinone Transfer uses Ripple's xCurrent to offer global remittance services. Blockchain fintech enterprises like Coinone Transfer provide faster and cheaper services than existing financial institutions do. "SWIFT frequently used in the overseas remittance business costs a lot because of many intermediaries and is slow. If blockchain devoid of intermediaries is used, customers could exploit services more conveniently," said Chung Eun-jeong, team leader of Coinone Transfer.
Customers increased sharply, cashing in on speed and lower cost. Coinone Transfer has shown a meteoric rise for five months since it introduced xCurrent. "In case of a remittance service starting from Thailand, more than 90% are returning users. This has been made possible thanks to blockchain technology."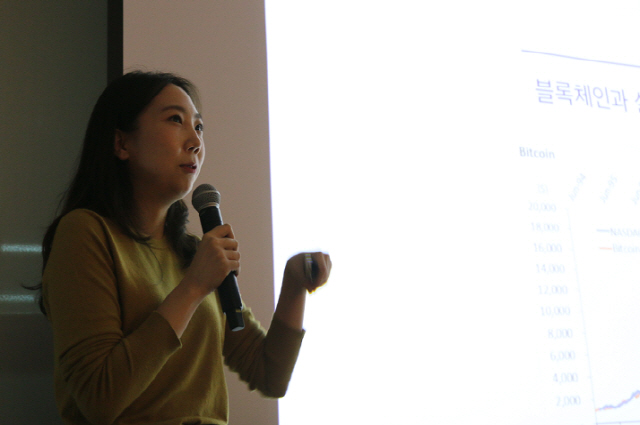 Cho Yong-hyun, Coinduck chief product officer (CPO)/ photo by Cho Jae-seok
'Blockchain QR code simplifies payment'
Blockchain-powered money transfer is drawing attention from the mobile payment market as well as from the overseas remittance market. Cho Yong-hyun, chief product officer (CPO) of Coinduck, which began to offer an Ethereum-based payment service last year for the first time in the world, said, "We are trying to reduce complicated payment processes that are repeated."
Coinduck simplified payment steps through Ethereum-based QR (quick response) code payments. "When the Bitcoin price soared, we felt that there must be the slightest line to connect real life with blockchain. Complicated processes like order, signature and verification with which banks, card companies, payment service providers and consumers have to struggle have been simplified thanks to blockchain," Cho said.
Coinduck creates Ethereum links at member stores and installs a QR code. If users pay after reading the QR code, Ethereum is sent before it is deposited in the Korean won the following day. Because fees are lower than those made by credit cards, Coinduck secured more than 1,200 member stores and 13,000 KYC customers online and offline. The service was embedded into the Galaxy S10, Samsung Electronics' latest flagship mobile phone.
Blucon chief technology officer (CTO) Albin Kwak/ photo by Cho Jae-seok
'Cryptocurrency payments can get a big boost'
Korean adults retain 3.6 cards per capita. The combined card market including transportation, credit and debit cards amounts to 847 trillion won. Blucon, the global payment platform using cryptocurrencies, aims to graft blockchain onto this card market.
Blucon says it can play a role as a bridge between banks and cryptocurrency exchanges via its own blockchain platform EXO. So if card owners have crypto assets at exchanges, card payment is possible without changing money. "The IC chip in the credit card has only one function as use is dependent on what OS platform you are using. Blucon made it a multiple card OS to take the global initiative without massive investment," Blucon CTO Albin Kwak said.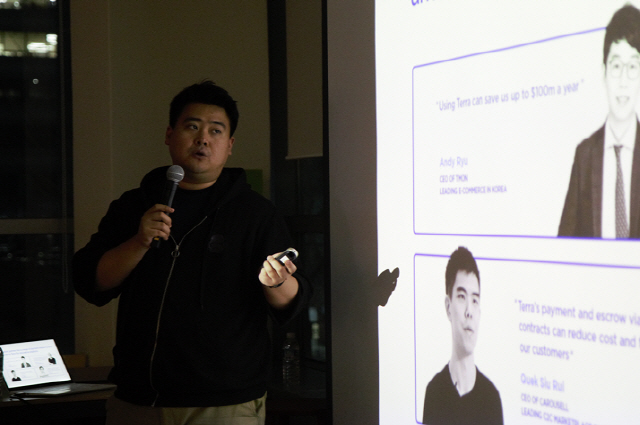 Kim Kyong-don, head of business development at Terra/ photo by Cho Jae-seok
'Using stablecoins to offer steady discounts'
What is important in cryptocurrency payments is not only the simplification of complicated processes. Ever-changing cryptocurrency prices are the biggest hindrance to boosting cryptocurrency payments. Terra, a blockchain-based payment system headed by the founder of TicketMonster, is trying to solve this problem by issuing stablecoins.
With regard to why platforms have to adopt new blockchain-based payment solutions, Kim Kyong-don, head of business development at Terra, cited "lower transaction fees." Using Terra could offer steady discounts of 5 to 10%. "E-commerce discounts can be raised through lower fees based on blockchain. Terra can cut price volatility of stablecoins by adjusting volumes through Luna while offering regular discounts continuously," Kim said.
As transactions are recorded in escrow, confidence in transactions can be enhanced. "We are convinced that our platform will upgrade the usability of e-commerce and service quality thanks to innovative fees, global payments and escrow," Kim stated further.
AI, big data to be highlighted on the last day
The Blockchain & Week event, organized by Decenter University, was held at the event hall on the second floor of WeWork Seolleung Branch Tuesday and Wednesday. On Thursday, the final day, artificial engineering (AI) and big data will be discussed in the presence of officials of Lyze, Airbloc, AI Network and Mind AI. /wonjaeyeon@decenter.kr
<저작권자 ⓒ 디센터, 무단 전재 및 재배포 금지>
XC