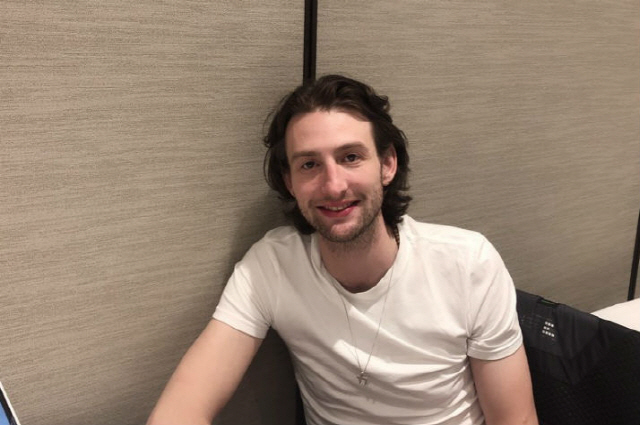 Joseph Weinberg, blockchain advisor at the OECD /Photo by Janice Yunji Kim
"What must be realized before regulation on a new industry is agreed is to make a unified definition concerning the industry. This is transforming distributed definitions worldwide like the role of cryptocurrency and how taxation should be realized into an integrated standard. The Organization for Economic Cooperation and Development (OECD) is currently endeavoring to study all things related to the blockchain industry involving cryptocurreny, distributed ledger technology (DLT) and security token and build up a unified definition."
OECD blockchain advisor Joseph Weinberg made the comments in an interview with Decenter in New York Friday, saying that regulation will be created, depending on how fast standards on the industry are devised.
Having learned about Bitcoin in 2010, he worked as fintech advisor at Canada's Ontario Securities Commission for more than a year and then founded "Shyft," a blockchain-based identity authentication project, with Paycase Financial, a blockchain payment company. Weinberg conducted education on blockchain and cryptocurrency for the Canadian regulatory body amid rising demand for blockchain in Canada. This prompted him to act as blockchain advisor at the OECD; he is currently giving blockchain-related lessons to financial departments at the OECD.
Weinberg expects blockchain to shine in not merely finance but also in other sectors. "The OECD believes that blockchain has a lot of potential. Each department within the OECD is doing its utmost to promote policies and industrial research with the objective of invigorating the blockchain industry together," he said.
Exemplifying medical record tracing, enterprise blockchain and global identity authentication service, Weinberg said the OECD makes much of reaching an integrated and clear definition on the industry before every nation comes up with regulation as the potential of blockchain technology has already been estimated. His position is that if the ecosystem acts collectively according to a unified message, the groundwork for regulation will be created across the world.
With respect to the reporter's remark that there are voices in Korea, devoid of blockchain regulation, that the blockchain industry must be regulated voluntarily, Weinberg said, "Blockchain defined by each company and association is different. Voluntary regulation realized amid distributed deadlock is not the best option." According to him, crypto exchanges, big companies and startups are playing separately. Some are perfect in anti-money laundering (ALM) and Know Your Customer (KYC) management while others are not. Voluntary regulation done under these circumstances is meaningless. He seems to believe that voluntary regulation only after finding a common denominator will help harmonize traditional and new industries naturally and build up regulation.
"It might be more efficient if leaders gather to exert influence. Others are to follow if influential figures take the lead," he said.
Let's imagine that unified standards have been devised. Then could it be possible to create common global regulation through Group of 20 (G20) conferences? "That would be difficult because every nation has different regulation and atmosphere. Every nation will begin letting out voice about regulation in accordance with the industrial growth and the setup of unified standards," Weinberg said. /yjk@decenter.kr
<저작권자 ⓒ 디센터, 무단 전재 및 재배포 금지>
XC