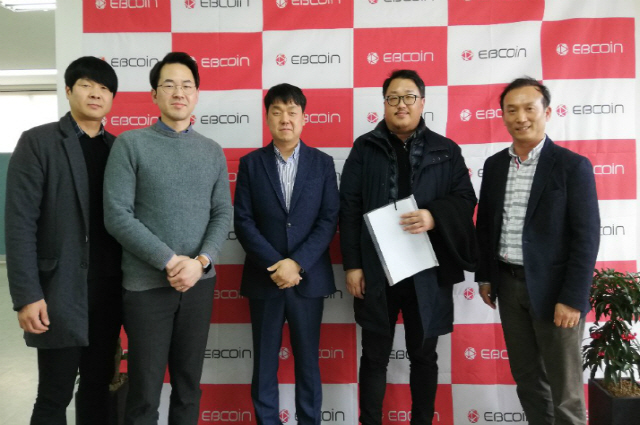 EBC Foundation, Chain Refund and the Future Strategy Bureau of Jeju Island put on a demonstration of a blockchain-based tax refund service at Jeju EBC Lounge Friday. Participants are, from left, Chae Jong-hwan, head of EBC Foundation's Jeju branch; Chain Refund CEO Yang Woo-suk; Han Young-su, director of the bureau; Noh Hee-seop, head of the bureau; and EBC Foundation COO Han Seok-kyeong. /courtesy of EBC Foundation
JEJU ISLAND - "All things will be recorded on blockchain until the final stage of tax refund. The refund process will be not only transparent but also automated via smart contract."
Blockchain company EBC Foundation, Chain Refund and the Future Strategy Bureau of Jeju Island put on a demonstration of a blockchain-based tax refund service at Jeju EBC Lounge Friday. Targeting foreign travelers, the tax refund service is one of the realistic blockchain projects to be implemented by Jeju, which is pushing for the designation of the southern resort island as the special blockchain zone.
"Because there is a middle man like the refund agent now, users are burdened with unnecessary fees in the refund process. It is also inconvenient for travelers to visit refund counters in person with paper refund slips," said Chain Refund CEO Yang Woo-suk. "Because of these inefficient systems, about 80 billion won is not refunded every year. Foreign travelers are unable to receive money that should have been refunded otherwise."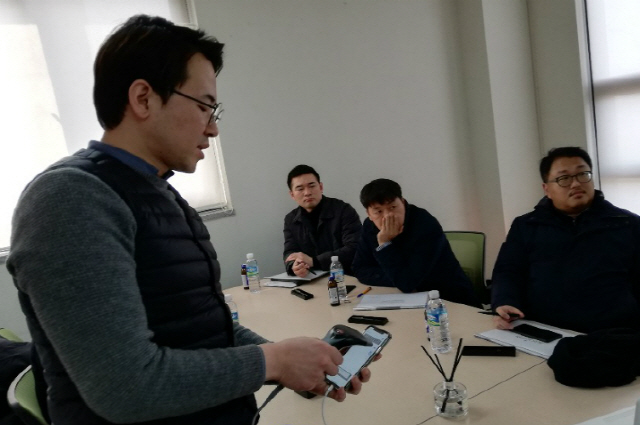 Chain Refund CEO Yang Woo-suk gives a demonstration of the tax refund service. /courtesy of EBC Foundation
Yang gave a demonstration in person with his passport. The first step of the tax refund is to register a passport photo on his mobile application. He could request a tax refund service as soon as his passport was registered. As the service went into operation, nearby tax refund franchisees appeared on the app monitor.
As Yang made payments and showed the bar code via the app as if to buy goods at a franchise store, the purchase was recorded on the blockchain as a transaction. One could see the possible refund amount on the app after the transaction was recorded. As he had his commodity carry-out report confirmed at the customs house and pretended to get a tax refund, the refund record also became a blockchain transaction. "The demonstration version is shown through the Hyperledger Fabric but the real version will be carried out in the Ethereum blockchain network," said Yang, adding that the transaction speed will become faster by adjusting transactions stored in a blockchain if users increase.
Why this refund process is convenient is that all steps will be automated via smart contract. "Information on customers and stores and that on refund commodities will be uploaded via smart contract. Customs authorities also use the smart contract to verify refund conditions and carry-out reports," said Yang. "Travelers no longer need to queue up at refund counters and wait to receive the refund."
In addition to the tax refund service, Jeju's Future Strategy Bureau is struggling to apply blockchain technology to data management concerning land register and spent batteries of electric vehicles. Noh Hee-seop, head of the bureau, said at the demonstration, "We continue to explore blockchain companies as part of our efforts to realize the designation of the special blockchain zone."
"If Jeju is designated as the blockchain special zone, we will take part. We'll do our utmost to launch the tax refund service that can be recognized by foreign travelers to Jeju," said EBC Foundation chief operating officer Han Seok-kyeong. /hyun@decenter.kr
<저작권자 ⓒ 디센터, 무단 전재 및 재배포 금지>
XC